2010 ScotiaBank Giller Prize Winner Johanna Skibsrud to be Published by Hamish Hamilton Canada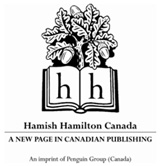 Toronto, ON—April 19, 2011—Penguin Canada is thrilled to announce the acquisition of two new works by Canadian novelist Johanna Skibsrud, whose debut novel, The Sentimentalists, won the 2010 Scotiabank Giller Prize and continues to receive international acclaim.
Both works are to be published under the Hamish Hamilton Canada imprint, the prestigious literary imprint from Penguin Canada that launched in 2009 and currently houses luminaries including Joseph Boyden, Roberto Bolaño, David Cronenberg, Kim Echlin, Zsuzsi Gartner, Andrea Levy, Colin McAdam, Helen Oyeyemi, Philip Roth, Vikram Seth, Ali Smith, Zadie Smith and Miguel Syjuco.
The untitled collection of stories and upcoming novel were acquired in a heated auction by Publisher Nicole Winstanley and Executive Editor Nick Garrison from agent Tracy Bohan of The Wylie Agency. Nicole Winstanley will edit both books.
Said Winstanley of the acquisition: "It is a great honour to have Johanna Skibsrud on the Hamish Hamilton Canada list. Readers will recognize the wisdom and lyricism of The Sentimentalists in her stories and will also be wonderfully surprised by the different tones, insights and settings."
"I am very pleased to be working with Penguin -- I admire the Hamish Hamilton list, and am excited to be joining it," added Johanna Skibsrud.
Johanna Skibsrud, 30, is the youngest winner and the first debut novelist since 1999 to capture the Scotiabank Giller Prize, Canada's most prestigious literary award. She is the author of two poetry collections: Late Nights With Wild Cowboys, published in 2008, and I Do Not Think That I Could Love a Human Being, published in April, 2010. Johanna Skibsrud was born in Nova Scotia in 1980. She completed her BA in English Literature from the University of Toronto, her MA in English and Creative Writing from Concordia University in Montreal, and is currently completing her PhD in English Literature at the Université de Montréal. She currently lives between Tucson, AZ and Montreal.
Of The Sentimentalists, a book about a daughter's quest to learn the truth about her dying father's life, the 2010 Scotiabank Giller Prize jury remarked: "The writing here is trip-wire taut as the exploration of guilt, family and duty unfolds."
Hamish Hamilton Canada, the first literary imprint to launch in Canada in close to 20 years, began publishing in 2009 as a boutique imprint for literary fiction in Canada, creating lead positioning for only nine to ten titles a year. Globally, the Hamish Hamilton imprint boasts a total of 60 awards and 26 award-winning writers from 12 nations, maintaining a deep commitment to the literary values established by its founder Jamie Hamilton in 1931, in its early years publishing writers such as Raymond Chandler and Albert Camus.