Hamish Hamilton Canada acquires hotly contested Canadian debut novel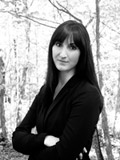 Toronto – August 17, 2011 – Penguin Canada Publisher Nicole Winstanley has acquired Y, a stunning debut novel by Victoria born writer Majorie Celona. The book was acquired in a competitive auction between several Canadian publishers and Winstanley triumphed with Hamish Hamilton Canada, the boutique literary imprint she launched in Canada in 2009.
Hamish Hamilton Canada selectively publishes only nine titles a year, and now claims Celona on its roster along with Man Booker Scholarship winner D.W. Wilson, Scotiabank Giller Prize winners Johanna Skibsrud and Joseph Boyden, Giller Prize finalists Kim Echlin and Colin McAdam, International Man Booker Prize winner Philip Roth and luminaries that include Zadie Smith, David Cronenberg and Roberto Bolaño.
American rights to the novel were pre-empted by Millicent Bennett at Free Press, an imprint of Simon & Schuster and UK rights have been swept up by Sarah Savitt of Faber. All deals were brokered by Celona's agent, Claudia Ballard at William Morris.
"Marjorie Celona tackles the great theme of our age: the search for self," says Winstanley. "Y is written in vigorous and astonishingly polished prose with satisfyingly complex and utterly believable characters and a gripping pace. This is the rarest sort of debut – completely heartbreaking and absolutely unforgettable."
Penguin will give Y the same long lead marketing treatment that has made novels like The Help and The Memory Keeper's Daughter into blockbuster bestsellers.
"My life begins at the Y…" so starts Shannon's story, a newborn baby dumped at the doors of the local YMCA. Bounced between foster homes, Shannon longs to uncover her roots. Where is she from? Who is her mother? And why would she abandon Shannon on the day she was born?
The answers lie in the heartbreaking tale of her mother's family, and their flawed and desperate fate. Through Marjorie Celona's intimate observations and quirky wit, present and past converge to shape a unique and lasting story of identity and inheritance. A novel that asks us to consider the "why" of our lives, even as it reveals that the answer isn't always clear.
Marjorie Celona was born and raised in Victoria, British Columbia. She studied writing at the University of Victoria, and at the Iowa Writers' Workshop, where she was an Iowa Arts Fellow and recipient of the Ailene Barger Barnes Prize for Excellence in the Short Story. In 2008, she won the Writers' Trust of Canada RBC Bronwen Wallace Award for Emerging Writers. From 2010-11, she was the Olive B. O'Connor Fellow in Creative Writing at Colgate University and in May of this year was writer-in-residence at Hawthornden Castle in Scotland. Y the novel was born from a short story of the same name, "Y". In 2005, "Y" was the recipient of Indiana Review's Fiction Prize, judged by Rick Moody, and was later anthologized in 07: Best Canadian Stories, and The Best American Nonrequired Reading 2008.
Publication is scheduled for Fall 2012.