Will Ferguson's 419 Wins The 2012 Scotiabank Giller Prize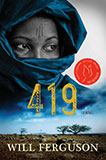 October 31, 2012 (Toronto)—Will Ferguson's novel 419 has won the 2012 Scotiabank Giller Prize, Canada's most prestigious award for literary excellence. Ferguson was feted last night at the Ritz–Carlton Hotel at a black–tie gala attended by the country's cultural elite.
The jury, comprising writer and publisher Anna Porter and authors Roddy Doyle and Gary Shteyngart, honoured Ferguson, saying, "419 points in the direction of something entirely new: the Global Novel. It is a novel emotionally and physically at home in the poverty of Lagos and in the day–to–day of North America. It tells us the ways in which we are now bound together and reminds us of the things that will always keep us apart. It brings us the news of the world far beyond the sad, hungry faces we see on CNN and CBC and far beyond the spreadsheets of our pension plans. Ferguson is a true travel writer, his eye attuned to the last horrible detail. He is also a master at dialogue and suspense. It is tempting to put 419 in some easy genre category, but that would only serve to deny its accomplishment and its genius."
Ferguson's editor Andrea Magyar says, "We are thrilled with the Giller jury's acknowledgement of Will Ferguson last night and honoured to be the publisher celebrating this win. Will has always followed his muse, travelling to the far corners of the world for a great story. He's never shied from a challenge and I'm so pleased to see his efforts rewarded."
419 was published to critical acclaim this spring, drawing rave reviews from coast to coast. The Globe and Mail called it "riveting," "provocative," and a "deeply ironic, thoroughly engaged politico–philosophical thriller," and the Toronto Star raved, "Ferguson dazzles us in 419 with an intricately woven, urgent story … heart–wrenching, fascinating, and scary. A thriller with a raw nerve ending."
In 419, Will Ferguson takes readers deep inside the world's most insidious internet scam. The title refers to the section in the Nigerian Criminal Code that deals with obtaining money or goods under false pretenses. When Laura Curtis, a lonely editor, discovers her father has died after getting caught up in one such swindle, she sets out to track down—and corner—her father's killer. Woven into Laura's journey is a mysterious woman from the African Sahel and a young man who finds himself caught up in a web of violence and deceit.